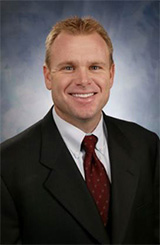 Robert Cantu
President of Western Builders
Born and raised in Santa Rosa, Robert Cantu learned about construction projects from every angle, by working with local builders from the time he was 14-years-old. After realizing he had the unique gift of looking down at a set of blue prints or listening to a description, and visualizing a finished, 3-Dimensional building, he knew that he wanted more from his career.
Robert received his degree in Construction Management from California State University Fresno's School of Engineering, and spent several more years gaining industry experience before founding Western Builders in 2002.
As Chair of The Construction Coalition, Robert continues to contribute to the industry at large, while maintaining involvement in every project, big or small that Western Builders takes on. Community leadership, a founding principle of Western Builders, is also prominent in Robert's daily life, as he volunteers his time, talent, and resources to several non-profit organizations in the Santa Rosa community.